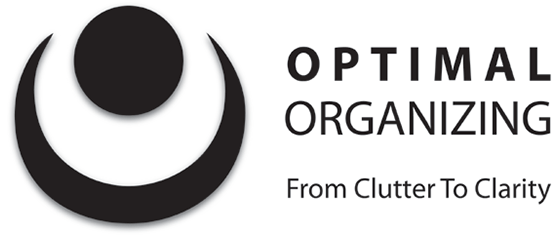 "Simplicity is the ultimate sophistication."
LEONARDO DAVINCI
See Optimal Organizing
in the Evanston Review
(get Acrobat Reader)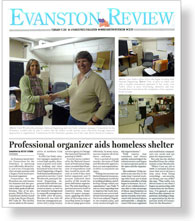 WHAT PEOPLE ARE SAYING
Martha C., Chicago, IL 2017
I put my family home-- 5 bedrooms, 5,000 sq. feet and four generations of my family's stuff contained within— up for sale at the end of October. Figuring I might have months to clean, maintain and pack it all, I began sifting and purging files in my home office. The house sold on the second day it was on the market. I worked every day, Monday to Friday, with Carol Woodworth for the next three weeks. I would never have made it through the ordeal without her. She was able to keep refocusing me on new tasks. She navigated me through dumping, shredding, donating, sorting, packing and labeling.

Nothing stumps her and she is always in a calm, even humorous state. She has great contacts, like piano movers and trash haulers and people who come over immediately to fix things. She makes sure that the good stuff that has to be discarded goes to the needy. That is so important in letting go.

We got the house emptied and cleaned for closing the week before Thanksgiving. I felt so unburdened for the holiday season, it was a reason to be thankful. Deciding what's important in life, important enough to keep, turned out to be a great experience.
Kim F., Chicago, IL 2017
Great! I highly recommend Carol. She listened to my short- and long-term goals and immediately identified where to start. We worked together on one room or area at a time, usually for 4 hours at a time, generally once a week. She kept me focused and made great suggestions, but was understanding about my priorities, especially concerning the things I was not ready to part with. Carol works hard and will do the 'heavy lifting'. I personally found that I worked best side-by-side with Carol throughout the process, but she would also be good at getting you started on a task that you could complete on your own (for someone with more time and initiative than I have). My house is now in order; the whole experience was truly transformative, both for me and the house. I can't say enough about what a great experience this was.
Martha M., Chicago, IL 2013/2014
I could never have brought order from chaos without Carol. She helped me sort, cull, and organize my home office, family records, medical information and financial files. While coping with a long series of family illnesses and deaths, the paperwork from all facets of my life had accumulated into an overwhelming morass. On top of that, I inherited from my mother boxes of letters, papers, photographs, journals and memorabilia, including what she had inherited from HER mother. Carol was a delight as she guided me through the process, with a wealth of organizational tricks, firm questions guiding me to what I could toss out and warm compassion when I could not always do it (at least not yet). Carol is a very fast study, quickly understanding my goals ranging from concepts underlying the organization of my scientific papers to the odd branches of my family tree. She taught me guidelines for financial organization and was a steady source of motivation. At the end of each session, our progress was clear and we had had fun working together.
Dolores C., Chicago, IL 2014
Carol helped me do a complete reorganization of my home office and removal of clutter from bookshelves, cabinets and closets. We filed, sorted and organized for tax preparation and estate planning.

I had been anxious for anyone to see the extent of my clutter and what would have to be organized and arranged. Carol was undaunted and eased my concern immediately. Within one visit, I was no longer overwhelmed and delighted to see the progress made then and thereafter. There are no words to completely capture how satisfied I am with the services that continue to be provided. Again, Carol is simply the best.
John S., Chicago, IL 2013
Carol has been assisting me over the past couple of years in sorting out and organizing 50 years of professional papers. She has helped me to stay focused and provided tremendous support in carrying out this process. She has given me ideas on how to organize better as well as to implement new systems. Patience is a major tool in her kit!
Martha, M., Chicago, IL 2014
Carol worked with me on thorny paper problems, both how to handle paper as it comes into my home, how to most effectively set up files, and then the actual sorting and filing. She is friendly, approachable and unfazed by substandard organizational habits and quietly intent on sorting things out. I liked her focus on process as much as her determination to leave my filing system in premium order. She gently empowers better future practices. Since you are letting someone into your home and, essentially, into your life through files, I was relieved to find Carol a fully professional and appropriate person, down to earth and funny. The time flew by and I am much the better for it. We will work together at my work office in the near future. I am delighted to have found such a key service in the hands of a wonderful person.
L. F., Chicago, IL 2013
Carol did an excellent job of sorting through the debris in my study and leaving it looking clean and tidy. Before she came, the floor of the room was littered with all sorts of papers and financial statements, some of which I had never opened, and many of which I had never filed. In this mess I not only had my own financial accounts, but also the account records of my now grown kids, as well as those of my recently deceased mother. Carol organized all these financial records so I could easily find what I wanted when I needed to do so and, in fact, made all of my records much easier to find. She explained everything she was doing before she did it and was careful to check with me before throwing out anything.

Carol is a very pleasant person to have around the house. In short, I recommend Optimal Organizing very highly. I had such a good experience with Carol the first time that I have used her several more times since then.
Stuart I., Chicago, IL 2013
Lakeview Pantry
www.lakeviewpantry.org
I love working with Carol! I describe her as "friendly and firm" which is probably why she is so effective. She will push you gently to make a decision to keep or dispose of an item. She also broke things down into manageable chunks of time and space to prevent overwhelming me with the large task at hand. Carol understands working with non-profits, and has helped my non-profit agency on a couple of projects. Like many non-profits, we are short on time and space and staff and it helped that she understood and accommodated those constraints. Carol has my highest recommendation!
Julie D., Chicago, IL 2013
www.odacreativepartners.com
Carol helped organize yearly financial papers and our company design samples so we can now actually find things! Over time she has helped rein in the explosion of paper, inherent in what we do, print communications. She has come in regularly to help us maintain our space.

Carol is very easy to work with and efficient. She gets right to the heart of what needs to be done, all the while being very sensitive to personal attachments (to things). She tailored her services to our company (design and communication) helping us maintain clean lines and a pleasing visual aesthetic. To top it off, Carol is fun, has a great sense of humor and loads of common sense. We will definitely continue to engage Carol as part of our company efficiency team.
Catherine H., Chicago, IL 2013
Carol is great! I work from home in a very small space and she helped me organize my home office. Additionally, she gave me ideas of how to get better organized, organizing supplies I could purchase, etc.

Overall I found her process and suggestions to be very helpful and would absolutely work with Carol again. In addition to being very good at her job, she is delightful to work with and it was a very helpful, productive and good experience. I highly recommend - it's so easy to get bogged down under clutter and Carol will help sort all that out. It's time and money well-spent.
John B., Chicago, IL 2012
I was faced with the task of organizing, packing (and throwing away) 20 years of accumulated stuff spread over 3 floors, a basement and a garage in a very tight time frame in preparation for a move. Carol cheerfully took it (and me) on, starting in on the third floor and working tirelessly through to the end. She kept me on task, provided interesting conversation at no extra cost, and demonstrated real sensitivity in the way she encouraged me to evaluate what I really wanted to keep and what needed to be tossed. With her help, the job was completed on time and decades of unneeded accumulation were cleared away. This was a huge job, which became entirely manageable thanks to her personal and organizational skills. I'd recommend her to anyone floundering under the weight of too much stuff, too many things to do, or any other complex situation requiring the ability to stay in focus.
Ben Joravsky, Chicago, IL 2010
One Day last month, I get this idea - gotta clean up my work room! ...That's it, says my wife, I'm bringing in Carol Woodworth. Read more
Laura Doherty, Chicago, IL 2011
www.lauradohertymusic.com
Bookings:
I started my own business as a freelance children's musician just over a year ago. Wearing all the "business" hats for the first time has been overwhelming, with booking, marketing, publicity, and more, trying to get the business off the ground. Carol helped me tremendously to get all of this organized. We first met several times to discuss my career goals. She then helped me prioritize these goals, along with a "to do" list and a timeline on when things needed to be done. She has such a clear perspective on what's attainable, giving me just enough nudge to get things done. She periodically checks back in with me, and we revise the "to do" list together.

With the business side of music being so new to me, I often looked to Carol for advice on how to handle negotiating situations, or handling tough business decisions. I even think of her as a life coach in a way! She handles everything with a smile and is easy-going to work with.
Frank A., Chicago, IL 2011/2013
After several years of clutter and neglect in my home and office, Optimal Organizing has transformed both my personal and working spaces into the picture of order and efficiency. While I wouldn't classify myself as a "pack rat" per se, I certainly held on to many items for many years more than necessary. Carol helped me sort through, evaluate, and quantify the documents and items I had amassed, in a relaxed and non-threatening way, allowing me to adapt to a more streamlined strategy that is both logical and practical. Not only were the results a removal of the physical clutter, but with it came a freeing, or lifting of the psychological barriers that had been keeping me from moving forward in my personal and professional lives.

Two years later, the filing and storage systems Carol introduced have made maintaining the order and clarity she created a breeze.
Cheryl Smith, Vice President, Anixter Center, Chicago, IL 2009
Over 15 years of working with Carol, she was always a consummate professional who displayed her leadership and problem-solving ability at every level of our complex organization. Carol supervised eight departments and oversaw every aspect of department management. She supervised the operation of 5 agency businesses that generated income of $8 million annually. With her abilities to listen, problem solve and understand diverse points of view, Carol was highly respected and displayed a great capacity for working with a diverse group of people.


Call Carol at
773.612.5898 for
a complimentary
consultation